Free vs. Paid Plagiarism Checking
Free vs. Paid Plagiarism Checking
Checking for plagiarism can save you a lot of embarrassment and headache, and while free plagiarism checking sounds like a great idea (and it is!) it simply falls short as a serious tool for avoiding the plagiarism pothole. Free plagiarism checks online simply cross match your submitted text with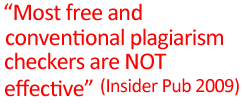 phrases in online search engine results. And while it may hit a few matches a few times, this method will mostly miss out on the huge database of material that's under subscription on several websites. Add to that journal articles, books, magazines, paid sites etc. and you can see how a free plagiarism check will end up being a cosmetic way to make yourself feel better.
Paying for any service that has a free alternative sounds like a silly thing to do, at first. But consider the advantages that those few dollars will get you: Comprehensive and structured checking and cross matching against billions of websites and publications submitted worldwide; checking against blog entries, paid site articles, journals, books and magazines; availability of multiple languages and file formats to check in; Checking not just for a simple text match, but a comprehensive synonym and sentence structure match. All this to make sure that the documents you submit are clean and clear for use.
In addition, paid services, such as CheckForPlagiarism.net not only put documents through rigorous stages of checking, but also avoids false positives through effective filtering of quoted and cited content to reflect only true plagiarism, this is a unique approach and far from conventional and free plagiarism checkers which show all links matched, be they from quotations or references, thus making it hard for the reader to sift through actual plagiarism and false hits.
While for legal reasons we cannot name the free plagiarism checker we test against, compared to our own for the same submitted document, the results are clear in the reports below. Free alternatives missed over 50% of the plagiarism found in the same document, while our report shows clearly all plagiarism detected.
The main difference between using a free plagiarism check or a reliable, plagiarism checking service is simply this: Peace of Mind.
Service Analysis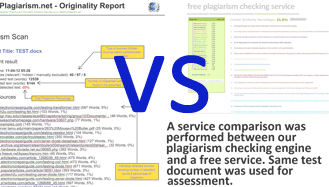 Effective and meaningful plagiarism checking requires access to publications and secured resources, which free plagiarism checkers simply cannot match. No matter what their claim is to the contrary.
Why Paid Checking? (features comparison)
SERVICE FEATURES

CheckForPlagiarism.net
Viper, Plagiarisma, Dustball, DupliChecker, etc.
(free plagiarism checkers)
internet checking (cached and live sources)
analyses grammatical errors in documents
publications checking (books, articles, magazines, journals, etc.)
patented Sentence Structure and Synonym Mapping technology (patented, in-depth approach)
comprehensive plagiarism report highlighting plagiarized text and displaying full sources
guaranteed results (backed by full money-back warranty)
provides accounts to institutions
permanently stores all submitted documents in a database?
multiple language support (English, Spanish, German, French, Italian, etc.)
compare multiple documents for similarities
Avoid getting penalized: Effective Plagiarism Checking Solutions
CheckForPlagiarism.net provides a unique opportunity for you to check your submitted documents' through our patented plagiarism checking engine, identifying all instances of either intentional (deliberate) or unintentional (non-deliberate) attempts at plagiarism. Our service is unique, simply because, unlike our competitors or free plagiarism checking services we check all submitted documents' through a host of repositories, including Internet-based (online) resources (e.g. blogs, websites, live and cached Internet links, message boards, PDFs etc.) and paper-based (offline) resources (e.g. books, articles, academic and professional journals, magazines etc.).
If the submitted document is cited incorrectly, or not cited at all, our software can still detect the sources used and identify them in the plagiarism report. This provides an opportunity for the submitter to correct his/her document before finalizing it.
Furthermore, our patented sentence structure & synonym plagiarism detection approach identifies and eliminates the threat of penalties which may be caused due to incorrect paraphrasing.
Our plagiarism report is extremely easy to read. Highlighting all 'offending' content in a submitted document for easy corrections. We are so confident in the ability of our service, that we offer a full money-back guarantee.
CheckForPlagiarism.net is backed by a full money-back guarantee, that is how confident we are in the ability of our service and


the strength of our plagiarism checking engine. Our service is currently in use by thousands of students, teachers, educators, academic, and professional institutions world-wide.
In addition to institutional accounts, we enjoy the confidence of over 100,000 individual accounts (including students, lawyers, doctors, educationists, etc.), who utilize our service on a daily basis. In conclusion, we'd simply like to say this, give us a risk-free trial today, we guarantee you won't be disappointed!
All free plagiarism checker service names listed are registered trademark services of their own copyright holders and are presented here solely for comparison purposes.