In-depth plagiarism and comparison reports
A sample plagiarism report generated using a test document is provided below. The report highlights publications (books, magazines, journals etc. sources, as well as, live and cached internet links). We have also included a guide on how to interpret the plagiarism report.
Please note, Adobe Acrobat Reader is required to access PDF files. You can download Adobe's Acrobat Reader from www.adobe.com
Our Sample Plagiarism Report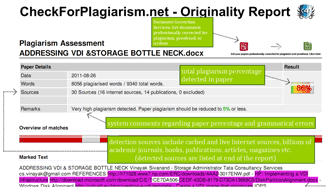 Our plagiarism reports clearly show WHAT has been plagiarized from WHERE, thereby, highlighting plagiarized content in submitted documents, as well as marking all detected sources.
Additionally, grammatical errors present in submitted documents are analyzed and marked in the report.
WriteCheck's Sample Report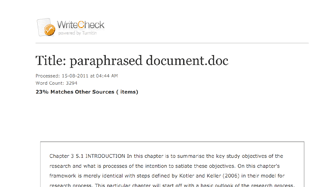 Unlike our plagiarism report, WriteCheck's report does not highlight any sources. WriteCheck's detection service is aimed at only highlighting citation errors within submitted documents.
Consequently, this makes it harder to assess where plagiarism in the document has occurred from and thus, how to verify and correct it.
Avoid getting penalized: Effective Plagiarism Checking Solutions
CheckForPlagiarism.net provides a unique opportunity for you to check your submitted documents' through our patented plagiarism checking engine, identifying all instances of either intentional (deliberate) or unintentional (non-deliberate) attempts at plagiarism. Our service is unique, simply because, unlike our competitors or free plagiarism checking services we check all submitted documents' through a host of repositories, including Internet-based (online) resources (e.g. blogs, websites, live and cached Internet links, message boards, PDFs etc.) and paper-based (offline) resources (e.g. books, articles, academic and professional journals, magazines etc.).
If the submitted document is cited incorrectly, or not cited at all, our software can still detect the sources used and identify them in the plagiarism report. This provides an opportunity for the submitter to correct his/her document before finalizing it.
Furthermore, our patented sentence structure & synonym plagiarism detection approach identifies and eliminates the threat of penalties which may be caused due to incorrect paraphrasing.
Our plagiarism report is extremely easy to read. Highlighting all 'offending' content in a submitted document for easy corrections. We are so confident in the ability of our service, that we offer a full money-back guarantee.
CheckForPlagiarism.net is backed by a full money-back guarantee, that is how confident we are in the ability of our service and


the strength of our plagiarism checking engine. Our service is currently in use by thousands of students, teachers, educators, academic, and professional institutions world-wide.
In addition to institutional accounts, we enjoy the confidence of over 100,000 individual accounts (including students, lawyers, doctors, educationists, etc.), who utilize our service on a daily basis. In conclusion, we'd simply like to say this, give us a risk-free trial today, we guarantee you won't be disappointed!
WriteCheck is a registered trademark of TurnItIn and is used here solely for comparison purposes